Middle East
The Jewish Question: bestseller at MESA
Montreal, Canada— About 2,000 attended the Middle East Studies Association conference (MESA) November 2-5, 2023. Most were academics based in North...
PATHFINDER PRESS BOOKS BY REVOLUTIONARY LEADERS AT TEHRAN BOOK FAIR
More than a million books were sold by mail order during the Tehran International Book Fair, held online January 20-29, 2021. Hundreds of Iranian a...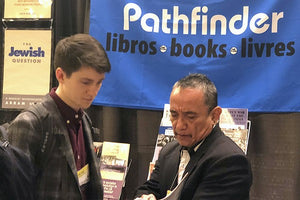 ARABIC TITLES POPULAR AT THE MIDDLE EAST STUDIES ASSOCIATION CONFERENCE
Hundreds of university professors, students, librarians and others convened here November 15-18, 2019 for the annual Middle East Studies Association conference in San Antonio, Texas.